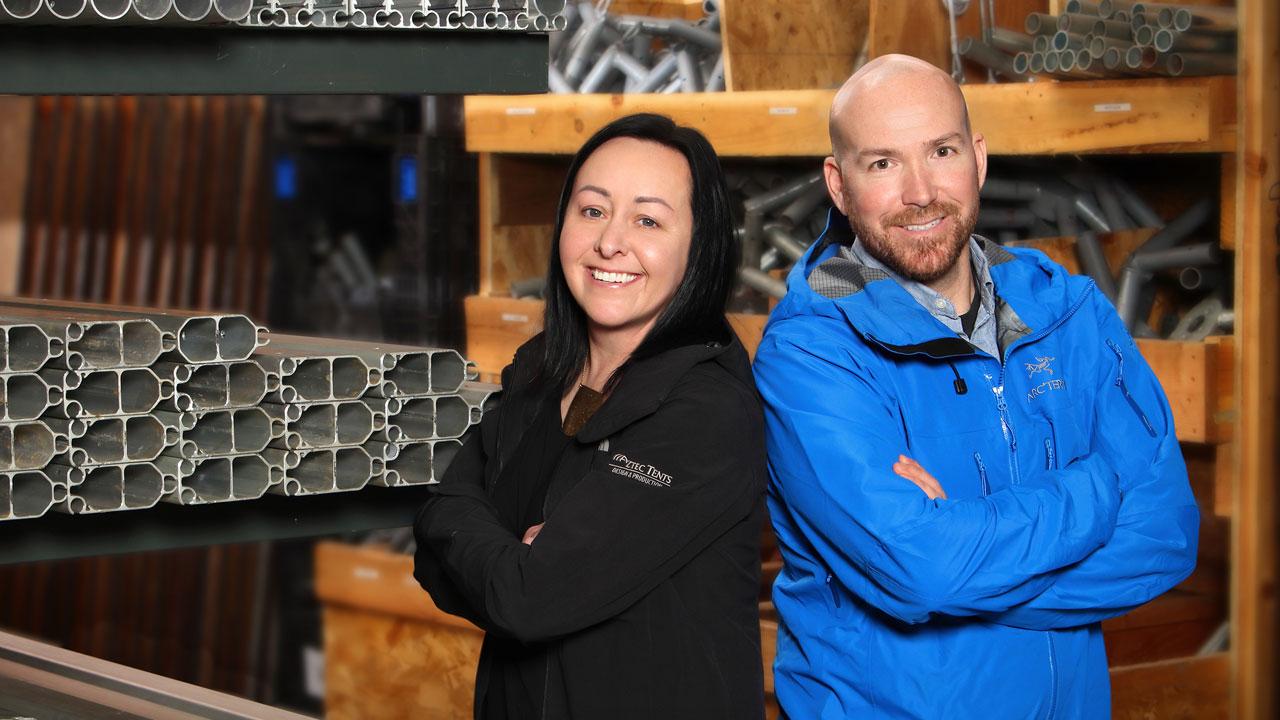 Customer Spotlight: Kelly & Shaun Godden, Longview, WA
We recently virtually sat down with Kelly and Shaun Godden with Specialty Rents & Events based in Longview, WA to learn more about their organization and how they foresee the future of event rentals in the Northwest. Kelly and Shaun just returned from the IFAI Tent Expo in Dayton Beach where they assisted with the installation of Aztec's 40x80 Jumbotrac frame system used as the education pavilion for the event. 
How many years has Specialty Rents & Events been in Business? How has the business changed since you took ownership?
We have been family owned and operated since 1968.  I am the third-generation owner.  My husband Shaun and I inherited the business in 2018.  My grandfather started the rental business with small equipment rental and in 1987 they bought their first tent.  My mother Susan inherited the business in 1995 and the party side continued to grow.  We even sold party supplies and rented costumes.  At one point we had over 3,000 costumes in our inventory.  In the early 2000's we eliminated the equipment rental and focused strictly on party rental.  It's fun, exciting, and we're very proud to be where we are today. 
Rental has been in my family my whole life, but I didn't work here until later in life.  At one point my mom offered me a job and I was like, "no way".  I laugh at that memory; here I am 16 years later, not only do I work here, now I own it.  When I met my husband, he was working as a contractor and later changed jobs to a kiln operator at a local papermill.  He was constantly being asked to help with tent installs and deliveries.  In March of 2020, COVID hit.  We just stopped.  We had to make a decision, and it was the hardest one we have ever made. We had to lay off our employees and shut the business down for 2 ½ months.  June 1st was on a Monday, and I decided to flip on the open sign and take a chance.  It was a wild ride from there…we were slammed, and no one wanted to work.  It was always our dream to be able to have my husband work with me full time.  So, in June of 2020 we decided to make it happen and he joined Specialty Rents full time.  Together over the years we have seen our company grow in so many different aspects.  In 2021 we moved locations to gain a larger warehouse.  We have large dreams for the future.  We are very involved with our community and love what we do.
Labor has been a major issue recently, how have you managed your labor needs?
I feel we've been pretty lucky with labor.  It's not always the case as summer months are much busier, and the needs of our staff increase dramatically.  It's just about finding the right fit and creating that family environment.  We like to hire people who enjoy this fast-paced industry and want to make a career not a "summer" job.  We have high standards and expect the job to be performed right and professionally.  If we perform the job right the first time, it really helps with obtaining the future business of the client, as well as potential referrals. 
How have the last 18 months affected your customer base and what impact has that had on your business?
We feel very fortunate for last year.  We have substantially increased our client base and have increased work with our regulars as well.  At one point we were out of tents.  We had so many tents on long term rentals due to Covid that we had to repurchase those tents to complete our summer months.  It was wild.  Our business grew tremendously which is mind blowing after closing for 2 ½ months. 
Regarding your tent inventory, what made you decide to transition into keder products?
My husband, honestly.  I think it became a daily talk about Jumbotrac.  Finally, I "listened" and purchased our first one.  We purchased a 40x100 Jumbotrac Gable End.  After being on the install, he was right.  I will never look back.  I see the 2" pipe in our racking and I just think, "over all of those years of pulling canvas over you, you got us to where we could grow".  Best decision ever.
Looking to the future, how are you feeling about the 2022 rental season and what are you doing to prepare for it?
During our slower months we work hard to prep for our busy season again.  Tighten every bolt, pull staples, getting linens ready, etc.  Even though the winter months are generally our slower months, it really hasn't slowed down to what we usually call "slow".  So far, our upcoming events are not showing signs of cancelation or downsizing.  In fact, we have even picked up more festivals than normal.  We are making purchases now so when it's needed, we have it in our inventory.  We are always making concrete weights to add to our inventory and are still transitioning into our new location.
What brought you to purchase Aztec Tents?
I love this story.  Every year this guy would walk into our business and try and sell us Aztec Tents.  Every time I would see him drive in, I was like, "not this guy again".  I always said, "no, we have another tent company we purchase from".  He'd show up again and again.  Finally, it was 2016 I made the phone call to him.  We purchased our first Aztec Qwik-Top 20x40, top only.  Just to see what the fuss was about.  We were impressed, so the purchases continued.  We got to tour the Torrance warehouse and were very impressed with the product line and their team.  After all these years it's Aztec that we prefer and love.  Thank you, Nick, for being consistent, knowledgeable, and completely reliable.
Any extra tidbits to share?
In 2019 we opened a second business, Axecutioner Axe Throwing.  My husband had been trying to get me to go throw axes for over 6 months.  Finally in August we went and 10 days later I had the business license and a month later we had a mobile axe throwing trailer.  Between my stepfather, my husband, and I we designed the entire trailer ourselves.  We started with a mobile trailer because rental already made sense to us.  We send two Axe Marshalls with the trailer to any event and it's a lot of fun.  We're also currently in the middle of constructing an indoor facility for Axecutioner at our old warehouse location for Specialty Rents.  My family owns the property, and it was important to keep it in the family as this is where Specialty Rents & Events was created 54 years ago.