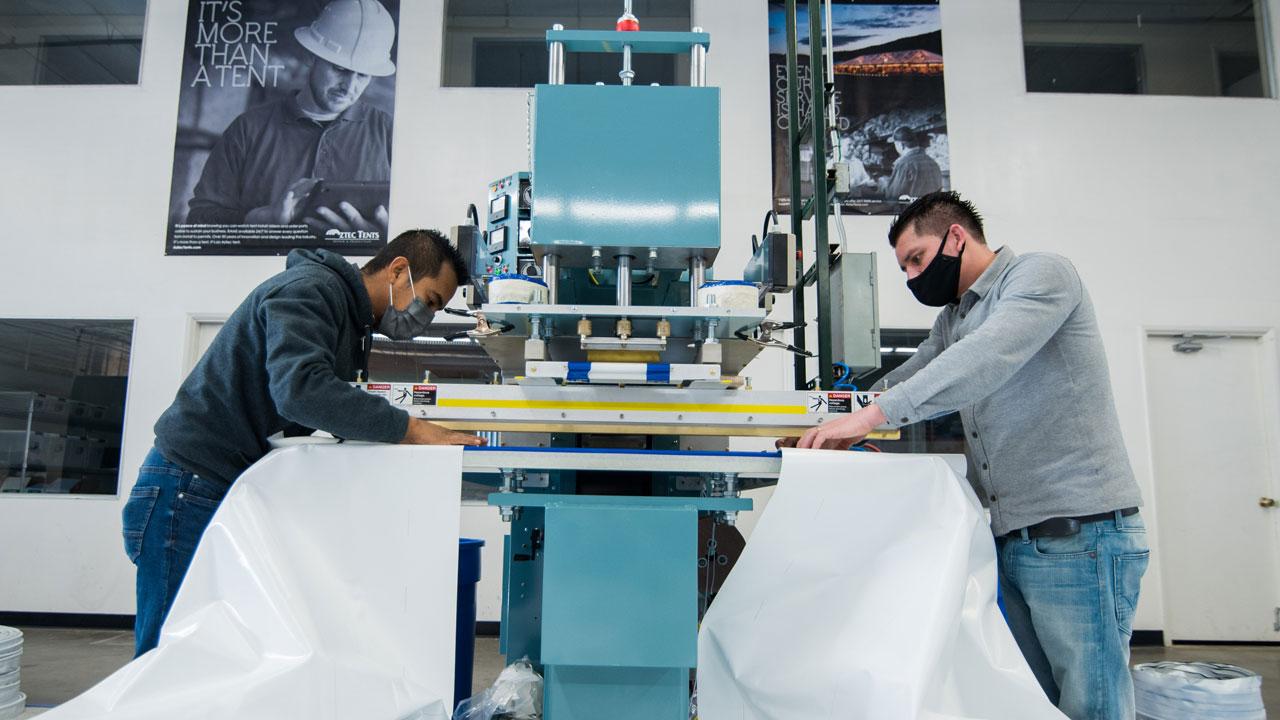 Expanding Capabilities
In continued response to the shift in demand caused by the COVID-19 pandemic, the operations team at Aztec Tents has made significant efforts to increase the production capacity in all departments. Over the last 18 months Aztec has embarked on a long-term strategic capital growth campaign to focus efforts for continued production growth to support the seemingly ever-increasing demand for its products.
Just today the team launched its third production line in its fabric production division to aid with the growing demand. This was achieved by repurposing existing warehousing space and outfitting it with the necessary operational equipment to run independent of the main vinyl production floor. The focus of this additional space is to not only increase overall production capacity, but also rebuild stock of some of our core products. 
"We've had to re-write what the relationship of supply & demand look like to our customers and our industry" explains Alex Kouzmanoff, President of Aztec Tents. "The concept of "The New Normal", is redefined every day. We can no longer assume the economics and cycles of the past will have any bearing on the future."
The Aztec Tents team has made significant efforts to answer the growing demand for its products. The four primary areas of focus have been; Strategic Supply Solutions, Equipment Investment, Team Growth, and Operational Efficiencies.
Strategic Supply Solutions: Investing in inventories of raw materials and finished goods (when possible) to be able to be responsive to customer's needs. This greater investment lessens the dependency on our raw material suppliers and fluctuations in their own supply and delivery schedules. To date, the team has yet to encounter a delay in a scheduled ship date for a customer caused by a raw material shortage.
Equipment Investment: Investing in new machinery and equipment to grow our production capacity. The company has focused tremendous resources on added machinery over the last year with additions in CNC cutting in both fabric and frame departments, heat sealing, sewing and grommeting equipment.
Team Growth: With all the equipment and infrastructure added there has been a need to add production team members to operate this new equipment. Over the last 12 months the operational team has grown by over 30%. That is an amazing number considering the challenges in the labor market over the last 12 months.
Operational Efficiencies: In addition to growth by simple addition, the operational team has made significant efforts to create better efficiencies in production. Streamlining workflows, automation, and strategic workgroups have all added to the efficiencies of the production team.
"The future for our industry continues to look strong and the need for outdoor covered space will continue long after the current pandemic ends," reclaims Kouzmanoff. "Grab on and buckle up…this year is sure to present its next set of challenges that we'll all have to respond to".