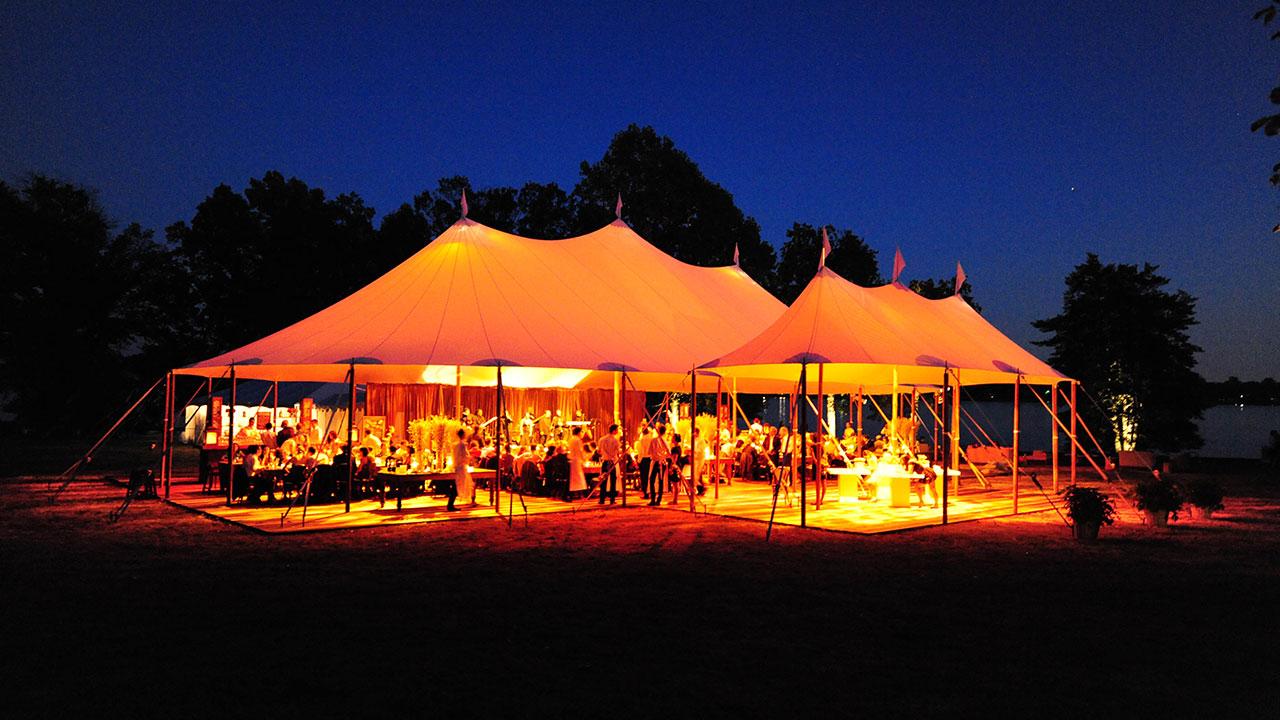 Award-Winning Aztec Tents Celebrates 50th Anniversary
National Company Transforms the Event Industry with Five Decades of Innovative Designs and Products
TORRANCE, Calif. (February 4, 2016) – Aztec Tents, one of the world's most renowned manufacturers of tents, canopies and semi-permanent fabric structures, is celebrating its 50th anniversary. Since 1966, the award-winning company has provided quality structures for some of the most prestigious events across the globe for a variety of industries. Aztec Tents have been seen at Hollywood awards shows, NASCAR, PGA Tours, and thousands of fairs, festivals and other popular events.
"We are so incredibly thankful to have reached this significant milestone. For more than five decades we have consistently provided our valued customers with reliable tent structures and excellent customer service," said Chuck Miller, president of 33 years. "Our company has stood the test of time because of our ability to keep up with the latest trends and provide traditional and contemporary options for any occasion."
Originally founded as Aztec Rentals', the company encountered initial success as a small general rental store. As Aztec grew, it became apparent that the company's primary focus would be the expansion of its party rental operations. In the 1980s President Chuck Miller expanded the products Aztec was capable of manufacturing. Later that decade, Aztec Tents launched the first of several industry-changing campaigns and positioned the company as a recognizable force in the industry.
"Over the last 50 years as the popularity of tents has increased; and functionality and appearance have been taken to another level. Despite the evolving industry, our successful product lines have demonstrated our adaptability and ingenuity," adds Alex Kouzmanoff, Vice President for Aztec Tents since 1997. "Our tents are magnificent structures incorporating finely tuned architecture and engineering."
In the 1990s, Miller and his team continued to significantly contribute to the tenting industry with the manufacturing of its contemporary Clear-Span tents and revolutionary Legend Series tension tents, which were expandable in both length and width.
"In addition to our contributions to our industry, we are proud to be an economic stimulant and a community fixture in Southern California. Our staff have formed continuous relationships with other local businesses and neighborhood leaders since 1966," adds Kouzmanoff.
The yearlong roll out of the Aztec Tents 50th Anniversary celebration will begin in the Spring of 2016 and will include customers from all fifty states joining in the celebration. "This will be an event that our friends, family, and customers are simply going to love!", adds Miller.
About Aztec Tents
An innovative leader within the international tenting marketplace, Aztec Tents has produced award-winning tents and structures for event rental companies, hotels, country clubs, caterers, award shows, governments and other custom, off-site event locations.
In recent years, Aztec Tents has received honors from the International Achievement Awards (IAA) for their outstanding specialty fabric projects. The company received the Award of Excellence in the commercial tent rental category and the Outstanding Achievement Award in tent manufacturing.
Aztec is one of the most recognized tent manufacturers in North America for its diversity of product and strong collection of tent professionals, with exclusive representatives throughout the U.S., Europe and Australia. The company's extensive service team includes sales, production, engineering and manufacturing personnel to support each product. Aztec's outstanding customer service has been noted in leading industry publications including Special Events, Event Solutions, InTents and Rental Management. For more information please visit www.AztecTents.com or call (800) 228-3687.