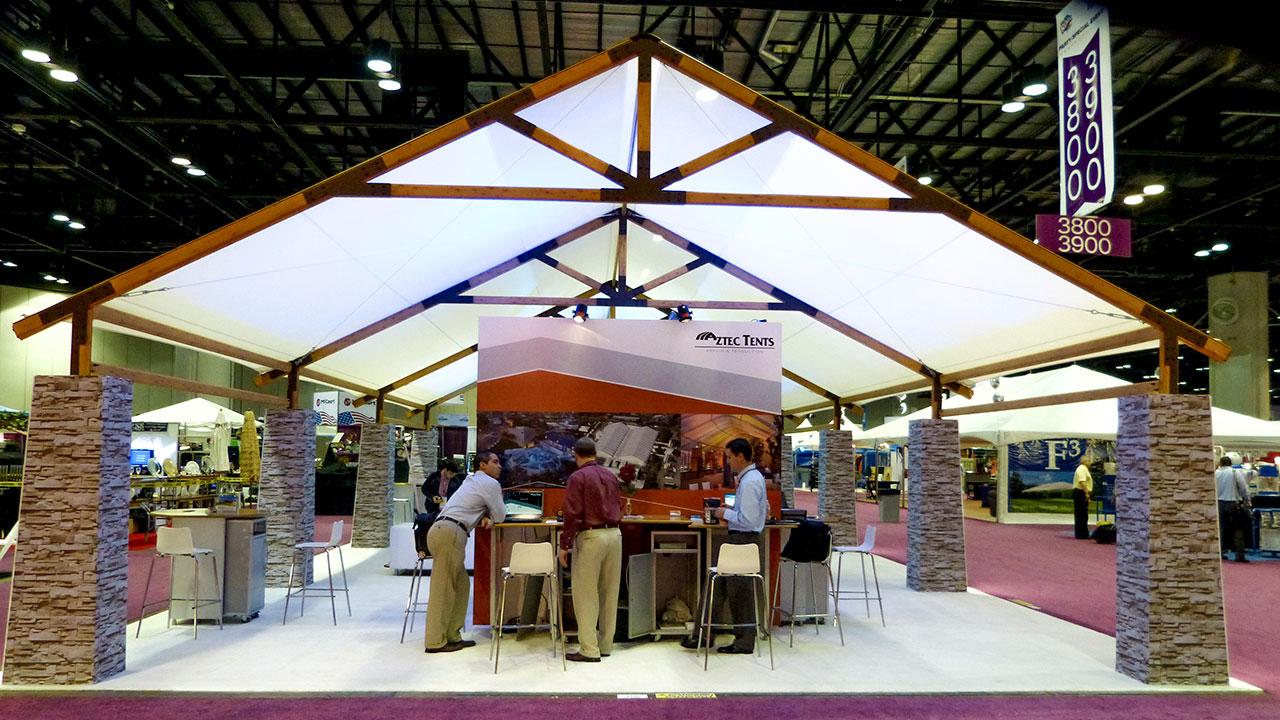 Aztec Tents Introduces Timbertrac™ Frame Tent Collection
Conceptual Tent Design at The Rental Show Leads to Immediate Buyer Demand for Manufacturing
TORRANCE, Calif. – May 8, 2014 – Aztec Tents, one of the largest manufacturers of tents and tent related accessories in the United States, recently unveiled the Timbertrac™ Frame Tent system, a newly engineered slide-track tent system. Revealed to the world at the 2014 American Rental Association, "The Rental Show" in Orlando, The Timbertrac™ Collection features an architectural truss beam design, "wood-like" aluminum beams, and aesthetic joining plates, producing the appearance of craftsman-style construction, while providing the amenities needed for event specific applications. The Graincote™ coating system used to cover the silver aluminum beams produces a look and feel never-before-seen in any other event structure.
"The overwhelmingly positive feedback from The Rental Show made us realize how the Timbertrac™ Collection was going to change the industry moving forward. This new innovation in tent design is a direct result of customer demand and we couldn't be more excited about it," said Chuck Miller, president of Aztec Tents.
The Timbertrac™ Collection design features a top and wall fabric system that slides through channels in the extruded aluminum frame, allowing for ease of installation and significant reduction of wear to the fabric after multiple installations. The gable ends of the tent system can be left wide open or closed with fabric panels and walls to accommodate various requirements or weather environments.
Timbertrac™ Collection frame systems are available in 20', 30', and 40' widths and expand lengthwise in 15' modules. The entire system is engineered for 90mph wind speeds.
Frame only pricing includes Graincote™ finished frame system, brown powder coated fittings, joining plates, inline ratchets, braces, stakes, and base plates. All fitting components utilize a side release push button and require no tools for installation. Adjustable baseplates can be added to any size configuration. Standard fabric for this system is the Prosail™ highly translucent fabric membrane, however white block-out and colored tops are also available.
About Aztec Tents
An innovative leader within the international tenting marketplace, Aztec Tents excels in providing superior-quality products throughout the special events industry. Since 1966, Aztec Tents has produced award-winning tents and structures for event rental companies, hotels, country clubs, caterers, award shows, governments and other custom, off-site event locations.
Aztec is one of the most recognized tent manufacturers in North America for its diversity of product and strong collection of tent professionals, with exclusive representatives throughout the U.S., Europe and Australia. The company's extensive service team includes sales, production, engineering and manufacturing personnel to support each product.
Aztec Tents has been honored with several "International Achievement Awards" for its outstanding specialty fabric projects, including the Outstanding Achievement Award in the tent manufacturing category. Aztec's outstanding customer service has been noted in leading industry publications including Special Events, Event Solutions, InTents and Rental Management. For more information please visit www.AztecTents.com or call (800) 228-3687.