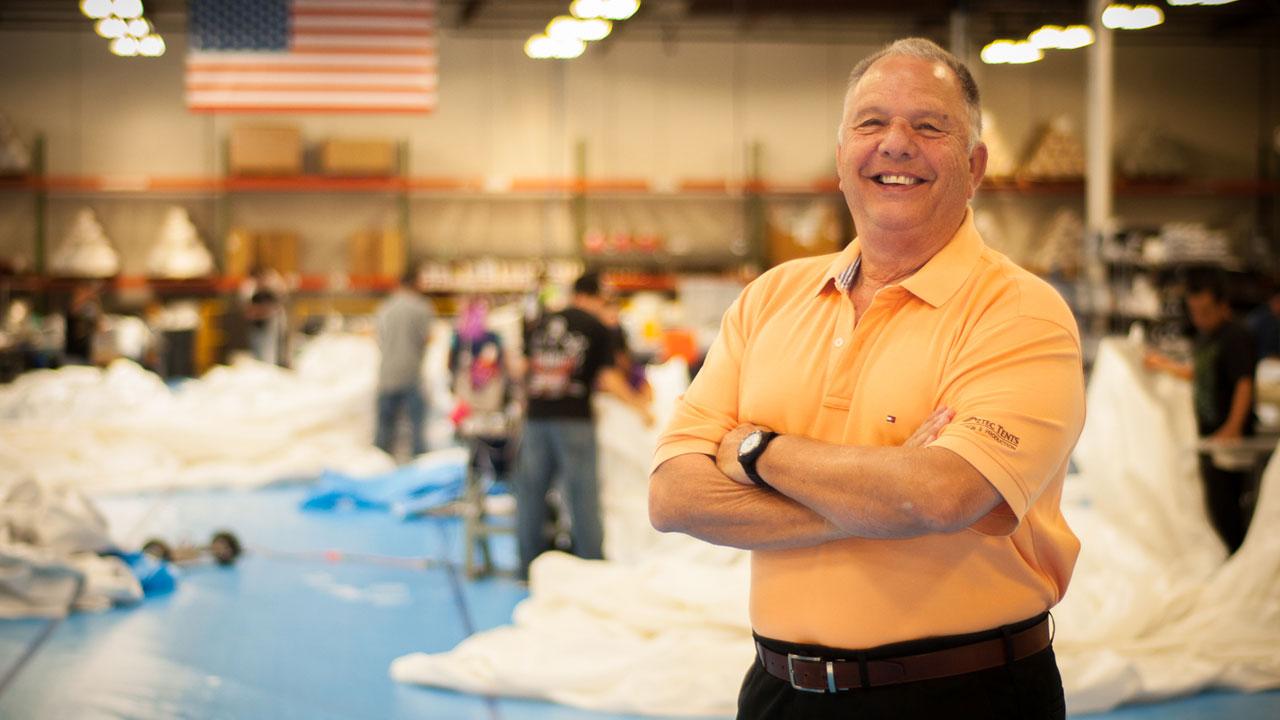 Charles Scott Set to Retire
AZTEC TENT'S FIRST REGIONAL ACCOUNT MANAGER (RAM) RETIRES FOLLOWING
NEARLY 40 YEARS IN TENT AND RENTAL INDUSTRY
TORRANCE, Calif. (March 16, 2016) – After 10 years working devotedly as a Regional Account Manager (RAM) for Aztec Tents, Charles Scott, a resident of Canyon Lake, Texas is set to retire on April 1, 2016. Charles joined Aztec Tents after nearly three decades of experience in the sales and rental industry. During his time at Aztec Tents, he was responsible for order processing, new product demonstrations, purchasing decisions and first-time setup.
In 1982 Charles met with Aztec Tents president Chuck Miller and became the first outside sales representative for the company. In 2002, Charles moved to California and began working as the company's Operations Manager within the rental division. In 2006, Charles became Aztec's first RAM overseeing six states: Texas, Oklahoma, Arkansas, and Louisiana, Mississippi and New Mexico.
"Charles is one of the company's pioneers. He was our first outside sales representative, our first RAM, and is very deservedly the first to retire," says Chuck Miller, president of Aztec Tents. "We are so incredibly grateful for Charles' contributions to Aztec. Thanks to Charles' dedication, we have been able to consistently provide our valued customers with dependable tent structures and outstanding customer support."
Before working at Aztec Tents, Charles worked for a family-owned aerosol business and by the late 1970s; he ran two equipment rental stores before embarking on a career with Aztec Tents. Charles attended Texas State University (formerly known as Southwest Texas University).
"I have seen the products evolve over the years to meet the needs of the event industry and the company continues to provide quality design and manufacturing. I was also part of the team that provided the best customer service," said Charles Scott. "I will miss all the camaraderie, we're like one big family at Aztec Tents.
Aztec Tents is a world-renowned manufacturer of tents, canopies and semi-permanent fabric structures. The company is celebrating its 50th anniversary this year. Additionally, the company employs a complete support team including sales, customer service, production, engineering, and manufacturing personnel to support each project.
Charles plans to enjoy his retirement with his wife of 50 years, Cynthia.
About Aztec Tents
Aztec Tents is the innovative leader in the tenting marketplace, designing and manufacturing award-winning tents and structures for the event rental industry to showcase at some of the most prestigious events across the globe. In 2016, Aztec marks its 50th anniversary and is one of the most recognized tent manufacturers thanks to its diverse product line and expert team of tent professionals with representatives around the world. The company has received numerous International Achievement Awards (IAA), the industry's premier awards program from the Industrial Fabrics Association International (IFAI). Aztec's extensive service team with notable customer service has been recognized by the industry's leading publications. For more information, visit www.AztecTents.com or call (800) 228-3687.