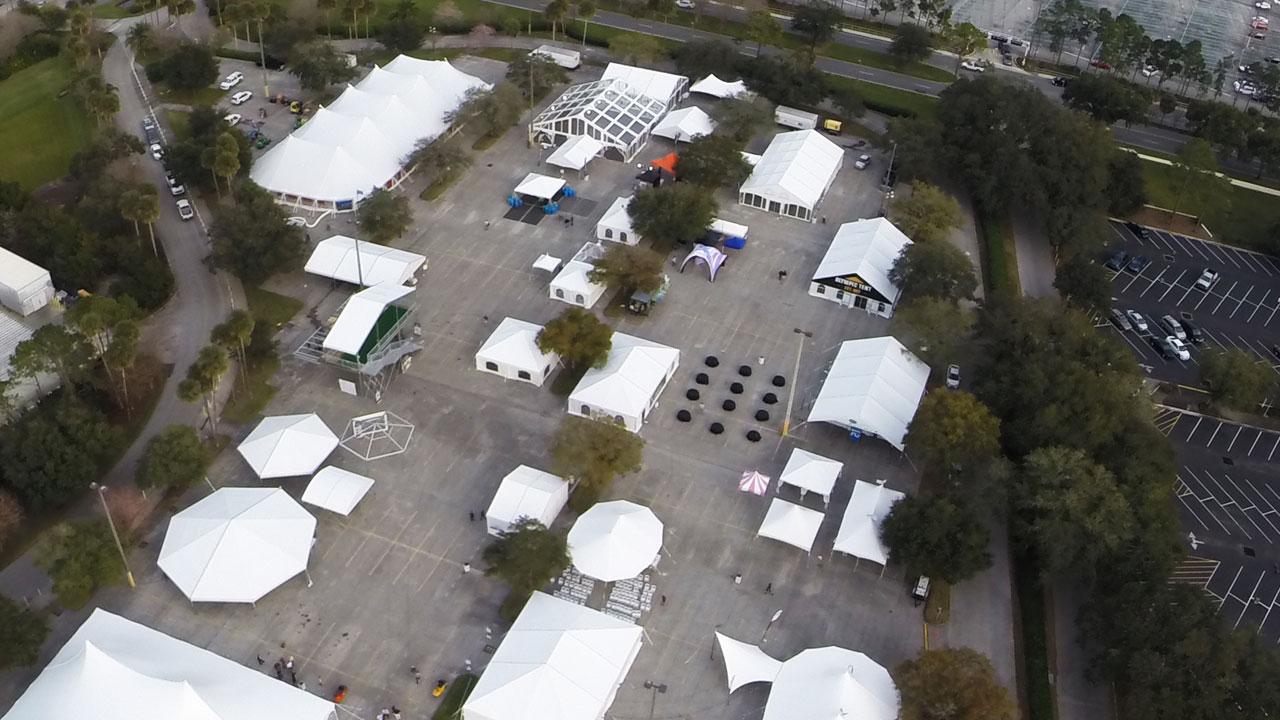 An Industry Joins Together
Special Events industry stands poised to address surging capacity needs of U.S. health care infrastructure

TORRANCE, CA- Aztec Tents has proudly joined ten of the major U.S. Tent & Structure Manufacturers to provide solutions for the COVID-19 pandemic. The principal strategy of the group (USTSA) is to align needs for disaster resources including field hospitals, emergency temporary shelters, remote testing sites, drive-thru testing sites, walkway covers, drive-through grocery pick-up, and key medical overflow infrastructure with the companies within the special event community to offer heightened levels of response to those in need. The companies include: Anchor Tents and Structures, Aztec Tents, Charnecke Tents, Economy Tent International, Eureka! Party Tents, Fred's Tents, Losberger De Boer US, Olympic Tent, Rainier Tent, and Top Tec Event Tents.

"There is no industry that better understands the ability to create space than the members of the special event and tent rental community", indicates Biff Gentsch, National Sales Manager of Evansville, Indiana based Anchor Industries. Gentsch explains, "The special event and tent rental industries specialize in providing tents and temporary structures, and most are equipped to provide for other needs that come with making temporary sites function efficiently. This includes installing temporary units with isolated rooms with floor to ceiling partitions, interior and exterior doors, flooring, the ability to heat and cool units as necessary, all power needs, lighting, barricades, cafeteria services- not only supplies, but the food service and distribution."

The special events and event rental industries have recently been devastated by the COVID-19 crisis which started with the cancellation of several significant outdoor music and sporting events in early March. As additional sporting events, graduations, and festivals announced cancellations and postponements, state and local leaders announced "Stay at home orders" causing event goers to make their connections virtually. "We know event rental companies have an incredible amount of available inventory across all 50 states, which is ready to be deployed to fight this pandemic," indicates Alex Kouzmanoff, President of Torrance, CA based Aztec Tents. "We simply need to help our country, state, and regional leaders utilize this relatively untapped industry."

To date, the group has been in communication with the Republican and Democratic Governors Associations, the Office of the U.S. Vice President, the Office of Partnership and Engagement - U.S. Department of Homeland Security, the Association for Professionals in Infection Control and Epidemiology (APIC), the CEO of The American Hospital Association, and several other regional health groups, associations, and hospitals.

"As manufacturers, we continue to communicate with these and other groups to let them know that we can connect local governments and health administrators with our event rental customers" indicates Jim Reyen, Business Director for Binghamton, NY based Eureka! Tents. Reyen further explains "Local event companies are able to ensure that emergency temporary tents and structures are installed properly and safely, and they can collaborate with leaders for further problem solving".

The group continues outreach to federal, state and local leaders and meets weekly to discuss potential opportunities for the industry.