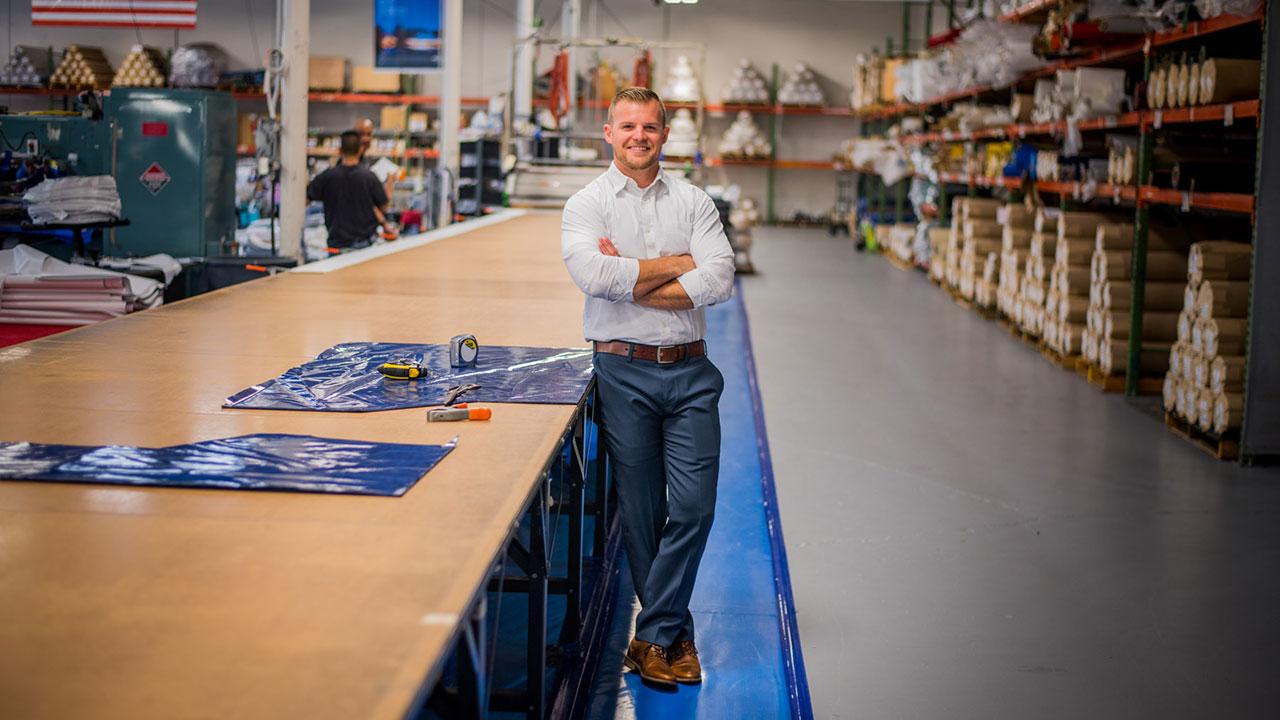 Nick Longino Joins Aztec Tents
Regional Area Manager to Support Growth in the Pacific Northwest
TORRANCE, Calif. – August 27, 2013 – Aztec Tents, one of the largest manufacturers of tents and tent related accessories in the United States, continues its initiative for building the highest levels of customer service for their clients with the addition of Nicholas Longino as the newest Regional Area Manager (RAM). Longino will service the Pacific Northwest states of: Alaska, Northern California, Oregon, Washington, Wyoming, Idaho, and Montana.
Longino joins Aztec after serving as the special events manager for Taylor Rental Party Plus in Plattsburgh, NY. Over the course of his two years with Taylor, Longino oversaw all aspects of the party rental business including layout design, crew management, event planning, and storefront management. Prior to his position at Taylor he worked in catering operations for weddings, corporate events and fundraisers, which has resulted in a valuable knowledge of the catering sector of the special events industry. His extensive experience in events and special event rentals will be a key contribution to the Aztec Tents Team.
"One of the most valuable experiences I have gained so far has come from time spent with Guillermo Lizalde, Tent Fabric Manager at our corporate headquarters," recounted Longino. "Seeing first hand his knowledge of the products and the work that goes into custom projects really instilled an appreciation in the time and effort that goes into making the best serving our customer's needs."
Longino grew up in Upstate New York, and graduated from State University of New York at Cortland. He currently resides in the San Francisco Bay Area and recently became engaged to marry next summer. Longino is also an avid snowboarder and is looking forward to some weekend "pitstops" while on the road helping customers throughout the Northwest Region.
About Aztec Tents
An innovative leader within the international tenting marketplace, Aztec Tents excels in providing superior-quality products throughout the special events industry. Since 1966, Aztec Tents has produced award-winning tents and structures for event rental companies, hotels, country clubs, caterers, award shows, governments and other custom, off-site event locations.
Aztec is one of the most recognized tent manufacturers in North America for its diversity of product and strong collection of tent professionals, with exclusive representatives throughout the U.S., Europe and Australia. The company's extensive service team includes sales, production, engineering and manufacturing personnel to support each product.
Aztec Tents has been honored with several "International Achievement Awards" for its outstanding specialty fabrics projects, including the Outstanding Achievement Award in the tent manufacturing category. Aztec's outstanding customer service has been noted in leading industry publications including Special Events, Event Solutions, InTents and Rental Management. For more information please visit www.AztecTents.com or call (800) 228-3687.