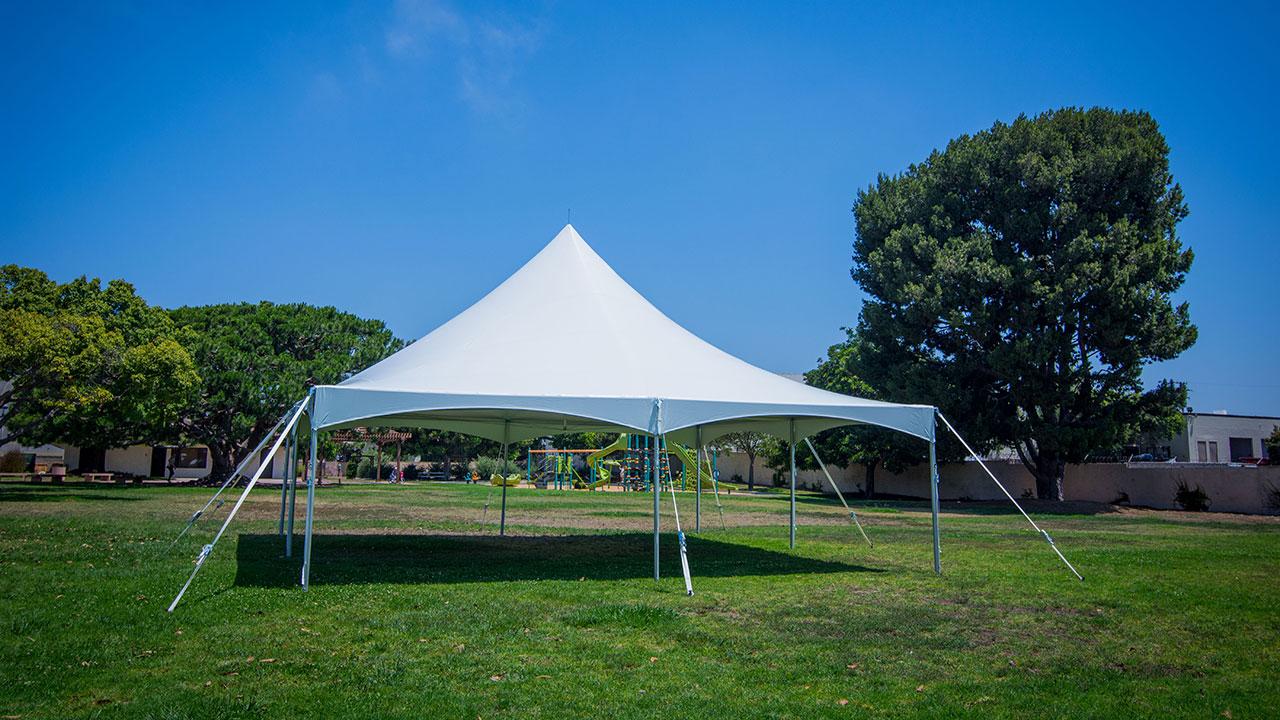 POPULAR FESTIVAL® "CAN" LINEUP GROWS WITH NEW SIZE ADDITIONS
TORRANCE, CA- July 31, 2023 – Aztec Tents, one of the globe's premier manufacturers of tents and tent related accessories, recently announced the successful addition of the 30'x30' size to its Festival® CAN-T and Festival® CAN-W product line-up. The new size will become available to Aztec's dealer network starting Tuesday, August 1st, 2023.
First released in 2009, the Festival® CAN-T and Festival® CAN-W are lighter weight alternatives to the popular Festival® brand of high-performance, high-peak frame supported tents.  The Festival® CAN-T and Festival® CAN-W originally started as part of Aztec's "Compatible Plus" lineup with sizes available as 10'x10', 15'x15' and 20'x20'. With the addition of the 30'x30' to both product lines, the following sizes are now available within the system: 10'x10', 10'x20', 15'x15', 15'x20', 15'x30', 20'x20', 20'x30', 20'x40', and 30'x30'.
"We have worked closely with our dealers on the development and testing of this new product and are excited to bring this larger size to the industry. We believe this product will bring new opportunities to our customers and will enable them to operate with lower labor costs as a result." states Eric Christensen, Regional Account Manager of Aztec Tents.
The Festival® CAN-T and Festival® CAN-W 30'x30' features a frame that is mostly comprised of elements from the existing Festival® CAN offering. The new components created for this design were the tent top, cables, mast, splices, and smartly designed side fittings. All other pipe, fittings, baseplates, tie-downs, and anchoring components are already used within the system. The tent is available in both 8'0" and 9'3" leg height and is engineered for ASCE 7-16 110MPH (75MPH Effective) wind code. The tent is designed to be installed with three team members; however, with the use of tent jacks the tent can be installed with as few as two team members.
General Manager of A-1 Party & Event Rental in Jefferson City, MO and part of the product testing team, Darrick Farr offered his comments on the new 30'x30' Festival® CAN option, "This tent is very rentable in my opinion. Quick install, looks great, and a good size."
30x30 Festival® CAN-T/CAN-W Installation Video
About Aztec Tents
An innovative leader within the international tenting marketplace, Aztec Tents excels in providing superior-quality products throughout the special events industry. Since 1966, Aztec Tents has produced award-winning tents and structures for event rental companies, hotels, country clubs, caterers, award shows, and other custom, off-site event locations.
Aztec is one of the most recognized tent manufacturers across the globe for its diversity of product and strong collection of tent professionals, with exclusive representatives throughout North America, Europe and Australia. The company's extensive service team includes sales, production, engineering, and manufacturing personnel to support each product.
Aztec Tents has been honored with several "International Achievement Awards" for its outstanding specialty fabric projects, including the Outstanding Achievement Award in the tent manufacturing category. Aztec's outstanding customer service has been noted in leading industry publications including Special Events, Event Solutions, InTents and Rental Management. For more information, please visit www.AztecTents.com or call (310) 347-3010.