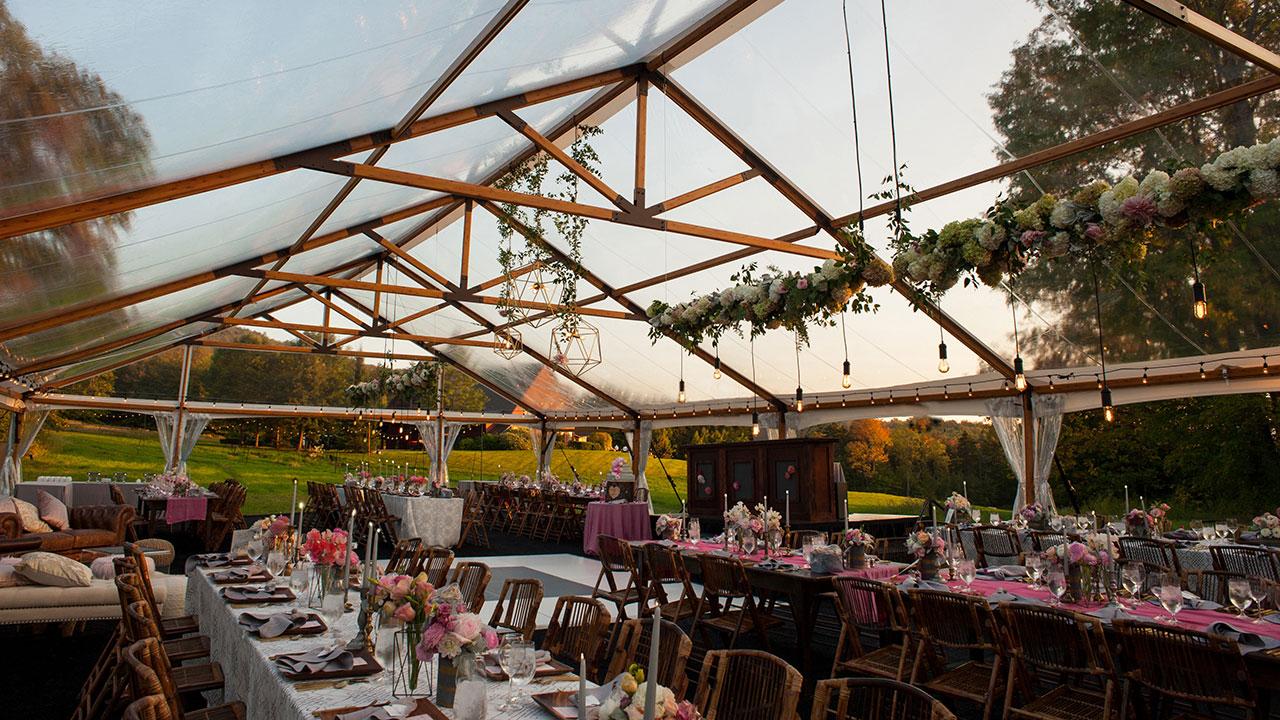 Timbertrac™ Collection Reaches Event Rental Marketplace
One time product prototype becomes a fixture in distinguished event settings
TORRANCE, Calif. – July 23, 2015 – Aztec Tents, one of the premier manufacturers of tents and tent related accessories in North America, recently announced the successful launch of its much anticipated Timbertrac Collection frame tents. First conceptualized and displayed as a prototype design at the 2014 American Rental Association, "The Rental Show" in Orlando, the Timbertrac™ Collection features an architectural truss beam design, "wood-like" aluminum beams, and aesthetic joining plates, producing the appearance of craftsman-style construction, while providing the amenities needed for event specific applications. The Graincote™ coating system used to cover the aluminum beams produces a look and feel never before seen in any other event structure.
"We have worked very diligently since the debut of the Timbertrac Collection prototype at the 2014 Rental Show to bring a product to the marketplace that not only looks quite different than any other rental tent, but also functions quite differently from the initial conceptual model built for the show," states Alex Kouzmanoff, vice president of Aztec Tents.
New features of the production model include updated engineering, elimination of nearly 50% of the bolts needed in the frame assembly, integrated gable end and wall panel options to fully enclose the structure and a pre-engineered portal brace system that eliminates the need for cross cables in the wall area of the tent system.
"We now have a handful of customers using this product in rental applications, and the design has inspired a whole new trend with mobile marketing applications for traveling product promotions," Kouzmanoff added.
Over the last two decades, Aztec Tents has focused on displaying unique, cutting edge conceptual designs at its display expositions. The Timbertrac™ Collection was born out of a "Concept Tent" that was exhibited at The Rental Show in 2014. "We've created some very interesting designs over the last several years," says Eric Christensen, Regional Account Manager for Aztec Tents. "Some of these designs never make it off the show floor while others end up evolving into full product offerings. We feel this is a strong way to keep innovative designs and visionary thinking in front of our customers".
The Timbertrac™ Collection frame systems are available in 20', 30', and 40' widths and expand lengthwise in 15' modules. The entire system is engineered for ASCE 7-10 115mph wind speeds.
About Aztec Tents
An innovative leader within the international tenting marketplace, Aztec Tents excels in providing superior-quality products throughout the special events industry. Since 1966, Aztec Tents has produced award-winning tents and structures for event rental companies, hotels, country clubs, caterers, award shows, governments and other custom, off-site event locations.
Aztec is one of the most recognized tent manufacturers in North America for its diversity of product and strong collection of tent professionals, with exclusive representatives throughout the U.S., Europe and Australia. The company's extensive service team includes sales, production, engineering and manufacturing personnel to support each product.
Aztec Tents has been honored with several "International Achievement Awards" for its outstanding specialty fabric projects, including the Outstanding Achievement Award in the tent manufacturing category. Aztec's outstanding customer service has been noted in leading industry publications including Special Events, Event Solutions, InTents and Rental Management. For more information please visit www.AztecTents.com or call (800) 228-3687.