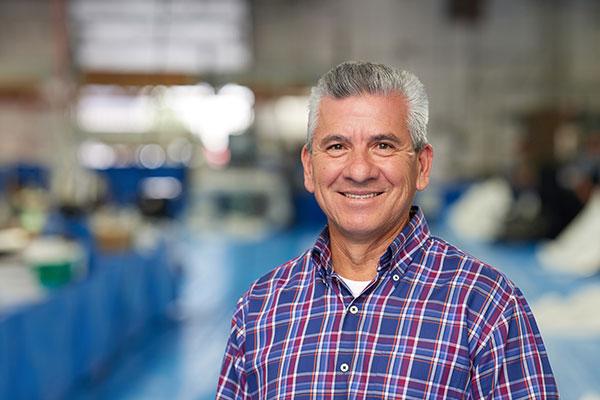 Guillermo Lizalde
Fabric Department Manager
Coming a long way from his hometown in Zacatecas Mexico, Guillermo Lizalde has built up quite a name for himself in the tent industry. As our resident Tent Master, Guillermo takes tremendous pride in the work that he and his team of skilled craftsmen are able to create each and every day. Working along side his brother Jose, nephew Rudy, and son Elvis, he helps make even the wildest tent dreams come to reality.
Lizalde started his career in the tent industry in 1983, where he began his love of tents working for the now defunct Academy Tent and Canvas. Though he started out as a floor worker, his passion and hard work soon led him into the ranks of floor supervisor. With experience, patience and extreme attention to the details, he has become one of the foremost leaders in tent design and production in the entire world.
When recently asked about his favorite recent projects and which he was most proud of he indicated, "Every one which can be considered difficult." Guillermo thrives on the challenge of being able to create something that others have never seen before and loves the feeling of accomplishment when a new design or custom project is completed.
One of his many projects includes the creation, design, and patterning of our new 81' wide Tidewater Twin Pole Sailcloth Tent. It is a wonderful addition to our growing product line, and with his guidance and the support of our production and Computer Aided Design teams, it has been a sensational hit.
Though he has definitely built his name in the tent industry, that isn't the only thing he's passionate about. In his free time he enjoys working his garden and working on remodeling projects around his home
Guillermo's decades of proud experience, passion for his work, and his undying need to never stop learning can best be summarized by his often said words "No problem, we can do it!"